Image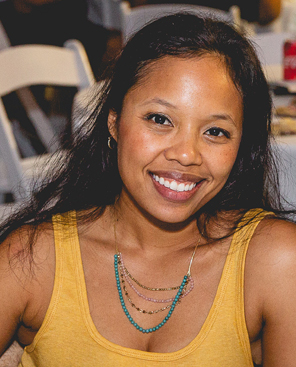 "I cannot say enough positive things about the faculty and staff of Penn State's MGIS program."
A Chat with Sue Ann
Let us know a little about yourself, your current employment, and how you 'found' GIS.
I grew up in Kissimmee, Florida, a previously small cow town that is a short distance from the major theme parks of Central Florida. While I ventured away for education (BS in Wildlife Ecology and Conservation from the University of Florida and MS in Organismal Biology from the University of Nebraska), I eventually returned home to Kissimmee where I now work as a GIS Analyst for Kissimmee Utility Authority (KUA). I first learned of GIS during my undergraduate degree via a required course - Survey of Planning Information Systems. When the course concluded, my professor offered me an internship under her guidance working with GIS for a local government entity, which I maintained until graduation.
Why did you choose Penn State to continue your education?
While I have over fifteen years of GIS experience, I have always desired a formal education in the field; to have a more comprehensive understanding of GISystems from the ground up. When I was in search of a graduate program, it was important to me that I would be able to continue working while furthering my education. After researching a number of options, I decided to enroll with Penn State due to the program's flexibility, wide range of course offerings, and the ease of admissions through their accelerated admission option.
What have you appreciated about your experience with Penn State's online geospatial education program, so far?
I cannot say enough positive things about the faculty and staff of Penn State's MGIS program. I have never felt like just another student; feedback in courses is always thoughtful and individualized. I also appreciate many of the classes provide opportunities to work on projects that could be easily implemented at my place of employment. It was a way to show my employer the benefits of their investment almost immediately.
How do you plan to use/apply your degree and certificates when you are finished (and how have you been using the skills gained from your coursework so far?)
With a formal education under my belt, I feel more confident, knowledgeable, and well prepared for future career opportunities, should they arise. Most important though, I feel inspired! I was paired with an amazing advisor, Pat Kennelly, and with his help, I was selected to present at the Esri User Conference. Following that presentation the Global Industry Director for Utilities at Esri reached out to me for an opportunity to co-present with Esri at a utility conference early next year. There is no doubt in my mind that these opportunities would not have presented themselves if I were not enrolled in the MGIS program.
Additionally, the capstone project I worked on, when fully implemented, will provide significant cost savings to my utility. They will definitely see a return on their investment in my education.
Do you have any advice for incoming students or students considering online geospatial education programs at Penn State?
When I sat down and began planning my course of study, I was actually a bit disappointed the degree did not require more courses - haha. So I will echo some advice I received from Beth King: many of the courses within the MGIS program are offered as part of the Open Educational Resources initiative, once your degree is finished it doesn't mean you have to be. Revisit courses you were interested in but maybe did not have the opportunity to take. The MGIS program is tough, but it is well worth the effort!
Thank you Sue Ann! If you have questions about our program, please send a message to info@gis.psu.edu and we would be happy to talk with you!