SHOWCASING STUDENT TALENT:
---
Image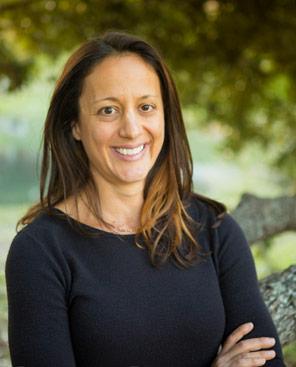 "I chose Penn State because it offers online classes, it has the widest variety of courses, and, quite frankly, is ranked highest in almost every program comparison I found."
A Chat with Amy
Amy Farley, from Austin, Texas, entered our program in 2016 and recently completed the MGIS degree and the certificate in Remote Sensing & Earth Observation. This interview was conducted when she first joined the MGIS program.

How did you learn about GIS?

When I applied to the MGIS program, I started my professional statement by saying that my journey into GIS has not been the most straightforward. My professional career to date has been in software development. My introduction to geospatial technologies began twelve years ago when I started working for my current employer. Prior to joining the company, I had no previous geospatial experience.
My employer, CoreLogic (formerly First American), has historically been heavily tied to the real-estate industry, providing property-level analytics, risk assessments and data services. The technical work I do supports the division in Austin, TX that provides flood zone determinations and other natural hazard risk assessments to mortgage lender, insurance, and other clients. Our software and GIS teams use a combination of ESRI and open-source solutions.
My first real plunge into geospatial technologies occurred back in late 2007 when our company acquired a small firm with a proprietary portfolio management software application that provided geospatial analytics. I was part of the software acquisition team and, ultimately, became responsible for managing the client property portfolios that were already using the software. While the software itself was stable enough, the data management was another matter entirely. My manager sent me out to the Oracle Training Centers in Reston, VA for a week-long immersion in Oracle Spatial. The class was my first exposure into how to actually store and manage geospatial data.
I continued to support and enhance spatially-enabled applications, but it was not until 2015 that I had to acknowledge that I was missing some basic GIS concepts. Our software team was in the middle of a project to modernize a web mapping application. While evaluating possible solutions, I reached out to a former co-worker in the GIS field and attended my first Texas Natural Resources Information Systems (TNRIS) GeoRodeo conference. The GeoRodeo conference here in Austin is a technical conference that specifically targets the GIS/geospatial developer community. From here, everything catapulted. I attended another GIS conference later that year, finished up the new web mapping application, completed some Esri MOOC courses, and decided to pursue the Penn State MGIS program. It was at the conferences where my interests were really piqued. I realized that while understanding how to build applications around spatial data is interesting, there are so many more facets of GIS that I really wanted to explore. Remote sensing technologies are absolutely fascinating to me, and I have zero experience in those fields.
Why did you decide to pursue an MGIS degree in general, and why did you choose Penn State?
The decision was a result of my new-found interests in all things GIS and Remote Sensing as well as the career stage in which I find myself. It was time to make a serious effort to learn some new things. I could take a few classes here and there, but that is only a half-hearted effort. I wanted the formal education, the credentials that come with that, and the exposure to a variety of ideas, experiences, and professionals. In truth, it was time to modernize and acquire some new skills. I chose Penn State because it offers online classes, it has the widest variety of courses, and, quite frankly, is ranked highest in almost every program comparison I found. When I asked for recommendations from the GIS team members at my office, Penn State was also suggested.
What have you appreciated about your experience in the Penn State MGIS program?
Everything! Seriously, I did not expect to enjoy the online learning as much as I do. How things have changed since I was an undergraduate! I actually prefer online learning to the traditional classroom now. The entire interface to the courses, students, professors, and accompanying resources really does facilitate a learning environment that goes beyond simply memorizing some facts. Since the courses center around actual projects, research, discussion, and interaction with other students, I am able to apply the concepts in a meaningful way. The professors are far more accessible in this format. I find the discussion forums to be a more effective way of having thoughtful topic conversations. Everything is organized with clear objectives and expectations. Penn State has not only embraced flexibility, but gone above and beyond to accommodate students' varying schedules. I appreciate how Penn State simply specifies assignment due dates, and does not attempt to dictate when a student should be available. If a review session occurs, students are given the chance to select times that work best for them. If a student cannot be present, then the review session is available online afterwards. Everything is done to accommodate working students and/or students in vastly different time zones. In short, Penn State has made education accessible to all.
In addition to that, the professors are brilliant, and my fellow classmates are all incredibly intelligent and highly motivated. It's a very positive, supportive, and relevant experience.
We know you are fairly early on in your MGIS coursework. Do you know yet what you will be pursuing for your capstone project?
I am slightly embarrassed to admit that I do not. I anticipate that the project will take advantage of my experience in software development and involve a software application of some sort. It may be related to my current employment and take the form of some type of risk modeling solution. It may a solution for an entirely different industry such as agriculture or archeological exploration. My interests are so varied that I am currently just trying to absorb as much knowledge as possible in hopes that it all just magically comes together.
In my application I touched on the influences that have contributed to my meandering mind. I grew up in a very small farming town in Texas. I moved away almost 25 years ago, but my Dad has been in the agriculture retail industry his entire career. He does a little crop surveying with a drone he bought a few years ago. While visiting last year, he asked me to sit on a sales call with him that was a pitch for some crop monitoring software that took advantage of satellite imagery. Precision Agriculture is ramping up even in small-town Texas.
Aside from agriculture, every time I see an article similar to the one that was published about LiDAR technology identifying ancient ruins in the jungle, I get excited. A recent discovery in Guatemala that suggests the Mayan civilization was far greater than anyone expected, along with the discovery in Honduras a few years ago, trigger my adventurous spirit. My undergraduate degree was in Latin American studies, so the idea of being able to penetrate the deep vegetation to uncover cities, roadways, and structures of these ancient civilizations just fascinates me.
The capstone could go in any of these directions. I'm open to suggestions.
How do you plan to use your MGIS degree when it is completed?
At the very least, it will enable me to be a more valuable contributor at my current job. At this point, my focus is on learning as much as I can and completing the program while working full-time. After graduating, I may focus on exploring other opportunities.
Do you have any advice for incoming students or students considering the MGIS program, based on your experiences so far?
Dive In!
Do not be intimated by the format. Embrace the flexibility that modern learning environments provide. For those that completed undergraduate degrees a "few" years ago like I did, you will be pleasantly surprised at how easily you adjust. Again, I find that the professors are far more accessible in the online learning courses than they ever were as an undergraduate student. You schedule coursework around your time. The classes provide applicable information and exercises that are based on realistic scenarios. The discussion forums generate very thoughtful conversation and idea exchange.
Also, do not be afraid of the strict guidelines around paper writing and source citations. Apparently, plagiarism is a big issue nowadays. Just cite all your sources and follow the standards of the reference style required by the university. It is REALLY NOT difficult at all. I was absolutely terrified when I turned in my very first research paper. I just knew that I had missed a reference or cited something incorrectly. I was convinced that the plagiarism detection service was going to blacklist me even though I had literally spent hours making sure I had done everything as correctly as possible. The worry was all for naught.
Read about some of our other amazing students, or email us to share your own story!