SHOWCASING STUDENT TALENT:
---
Image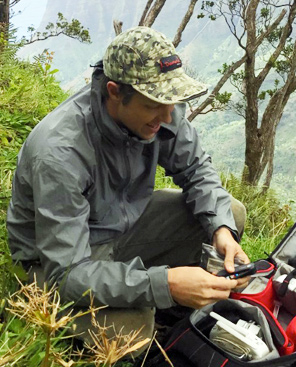 "I grew up in Portland, OR, where I developed a deep connection with nature. I spent all my summers hiking and camping around the great northwest."
A Chat with Ben
We enjoy hearing from our talented students in the Penn State Online Geospatial Program, especially about what they have learned from our classes and how they plan to apply their certificate/degree.
Ben Nyberg is an MGIS graduate who currently works as a GIS Coordinator and Drone Specialist for the National Tropical Botanical Garden. His work using drone technology to study the unique flora in Hawaii has been showcased in various news outlets. Read below to learn about his path to our program and his advice for prospective and incoming students.
Let us know a little about yourself, and what you are working on in the geospatial field.
I grew up in Portland, OR, where I developed a deep connection with nature. I spent all my summers hiking and camping around the great northwest. I went off to college in Boulder, CO, chasing snow and a degree in Geography. When I finished my undergrad, I decided to move to Kauai to take a break and enjoy the tropical landscape. Over ten years later and I'm still here.
My geospatial interests revolve around connecting technology with traditional boots-on-the-ground conservation. I have worked for The Nature Conservancy and the National Tropical Botanical Garden (NTBG) in an effort to streamline their data collection processes, come up with innovative remotely-connected hardware solutions and to develop new remote sensing techniques. My current passion is using drones to survey the extremely rugged cliff habitat of Kauai for rare plants.
Why did you decide to continue your education, and why did you choose Penn State?
After a few years working here on Kauai, I realized that there was a great opportunity to connect my passion for GIS with my duty to take care of the natural environment, but I felt I needed more skills. Living on a small island, the options to further my education were few. I chose Penn State for the reputation, convenience, and flexibility. I started with the certificate program, and continued on to the Master of GIS.
What did you appreciate about your experience with Penn State's online geospatial education program?
This program allowed me to keep working, while I got my degree. That is priceless. Not only could I earn money to pay for it as I went along, my employer encouraged me to use work time to push forward school-related projects. It was really a win-win for everyone. Also, as I was choosing my capstone project, I was connected with some great advisors that helped me develop a strong thesis. The experience I gained has had an amazing effect on my career.
Do you have advice for incoming students or students considering continuing their education with us?
My advice to incoming or potential incoming students would be follow your passion. The Penn State curriculum offers such a wide range of courses, there is endless opportunity. Secondly, if you are working during the program, get buy-in from your employer. The work I put into research and development of drones for botanical survey has helped NTBG become a leader in the field.
Read about some of our other amazing students, or email us to share your own story!