SHOWCASING STUDENT TALENT:
---
Image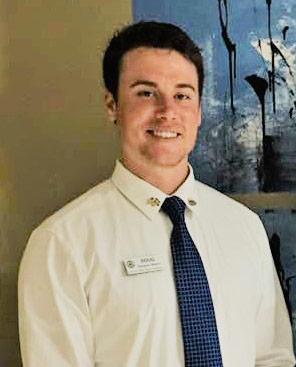 "Having the flexibility to continue my full-time job while gaining a world-class graduate education and applying the teachings to my current job was very empowering."
A Chat with Doug
Doug Sexton is an MGIS graduate and was also the first graduate of our newest certificate, Geospatial Programming and Web Map Development. Read below to learn about his path to our program and his advice for prospective and incoming students.
Let us know a little about yourself, your current employment, and how you 'found' GIS.
I am 32 years old and have been a GIS professional for nearly 8 years. I completed Penn State's MGIS program in December 2017, and continued my education after graduation. I am honored to be the first student awarded the Geospatial Programming and Web Map Development Certificate. I am also excited to report that I also started a new journey in my GIS career as a GIS Developer for local government. At the risk of sounding too familiar, I did not find GIS, but GIS found me. I began working in Community Development in local government back in 2011 and my first exposure to GIS was as a user, locating properties through ESRI's ArcReader software in efforts to review development location attributes and proximity to various regulatory boundaries. Information technologies and computer software have always been a strong interest of mine for as long as I can remember, so I guess looking back it is no surprise that GIS became a passion for me almost immediately. Here I am today looking back on how fortunate I was to indirectly discover GIS.
Why did you decide to continue your education, and why did you choose Penn State?
I taught myself GIS, or more specifically how to be proficient in implementing GIS through ESRI software, by purchasing and working through every volume of instructional literature that could be acquired at the time. Moving up through the roles of GIS Technician, to GIS Coordinator, to GIS Administrator, I acquired a lot of real-world experience to become highly proficient in the field, but always lamented not finding GIS earlier in life. I would have surely gone this route for my undergraduate degree.
What did you appreciate about your experience with Penn State's online geospatial education program?
Of the many things I enjoyed about my PSU MGIS experience, having the flexibility to continue my full-time job while gaining a world-class post-graduate education and applying the teachings to my current job, was very empowering. Compressed semesters made it possible for me to complete my MGIS in 2 years without being entirely overwhelmed taking multiple courses in a semester. Most important, I appreciate the skill set that I developed during this time, and having that value translated directly to my professional work efforts.
How are you using (or will you use) the skills and education you received from Geospatial Programming/Web Map Development Certificate?
Extending out-of-the-box Web-GIS functionality by leveraging the ArcGIS JavaScript API affords me the opportunity to create effective solutions for technical products that do not contain that functionality. Python automation has been essential to my workflows and is an integral part of who I am as a GIS professional. There are truly no limits in GIS when equipped with the skillset to apply automation to advanced geospatial techniques. The added bonus is the ability to expose data that you have developed to a wider audience through Web-GIS development. The only limitations in the world of development are your own creativity, motivation, dedication, and the pride you take in your work.
Do you have any advice for incoming students or students considering continuing their education with us?
Do your research on the path that you want to take in your professional GIS career. See how the course knowledge and deliverables match up with your current employment and envision how you would be able to utilize concepts taught by applying the lessons to your day job. Be ready for a commitment - the expected 10-12 hours a week can be on the low side if you do not manage your time & responsibilities wisely. Be ambitious with project deliverables and envision them early in the course. Whether you have interest in GIS programming or web-development as a profession, be aware that these skill sets have infinite applications so you owe it to yourself to at least explore them as an elective.
Read about some of our other amazing students, or email us to share your own story!